Withdrawl Sleeves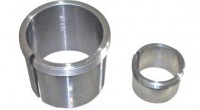 Withdrawl Sleeves
Product Description
Bearing At Desired Space On The Shaft With Se Of Withdrawl Sleeve, Which Is Pushed Hard Into The Bearing To Attain Very Tight Assembly. Removal Of Bearing From Assembly Becomes Very Easy With Withdrawl Sleeve; The Shoulder End Of Withdrawl Sleeve Is Provided Threads Suitable To Fit KM And HM Series Lock Nuts. During Dismounting, The Locknut Is Mounted On Threads Of Withdrawl Sleeve And Locknut Is Rotated With Spanner To Butt Against Bearing Side To Push Withdrawl Sleeve Out Easily On The Shaft.
Withdrawl Sleeve Have Found Their Greater Application In Railway Coach Wheel Or In Drives In Paper Industry Where The Maintenance Down Time Should Be Minimal.
Masta Withdrawl Sleeve Having A Bore Diameter Of 200 Mm And Above Are Supplied As Standard Design As Well As Also With Oil Injection Grooves And Holes For Use Of Hydraulic Pressure To Remove The Withdrawl Sleeve From Bearing Assembly. Such Type Is Designated As AOH And It Has Two Oil Supply Ducts At The Threaded Shoulder Side And Have Distribution Grooves Around The Circumference And In Axial Direction On The Outer Side As Well As Inside Surface Of The Withdrawl Sleeve. Hydraulic Oil Is Injected At Very Heavy Pressure At The Time Of Dismount These Withdrawl Sleeves From Bearing And Shaft Assembly. This Method Is Very Useful For Heavy Bearings.
Contact Us
Shop 4, Charkop Kudal, Plot 116, Sector 4, Opp. Haryana Bhavan, Charkop, Kandivali West Mumbai Maharashtra India +918045800108
Phone :+918045800108